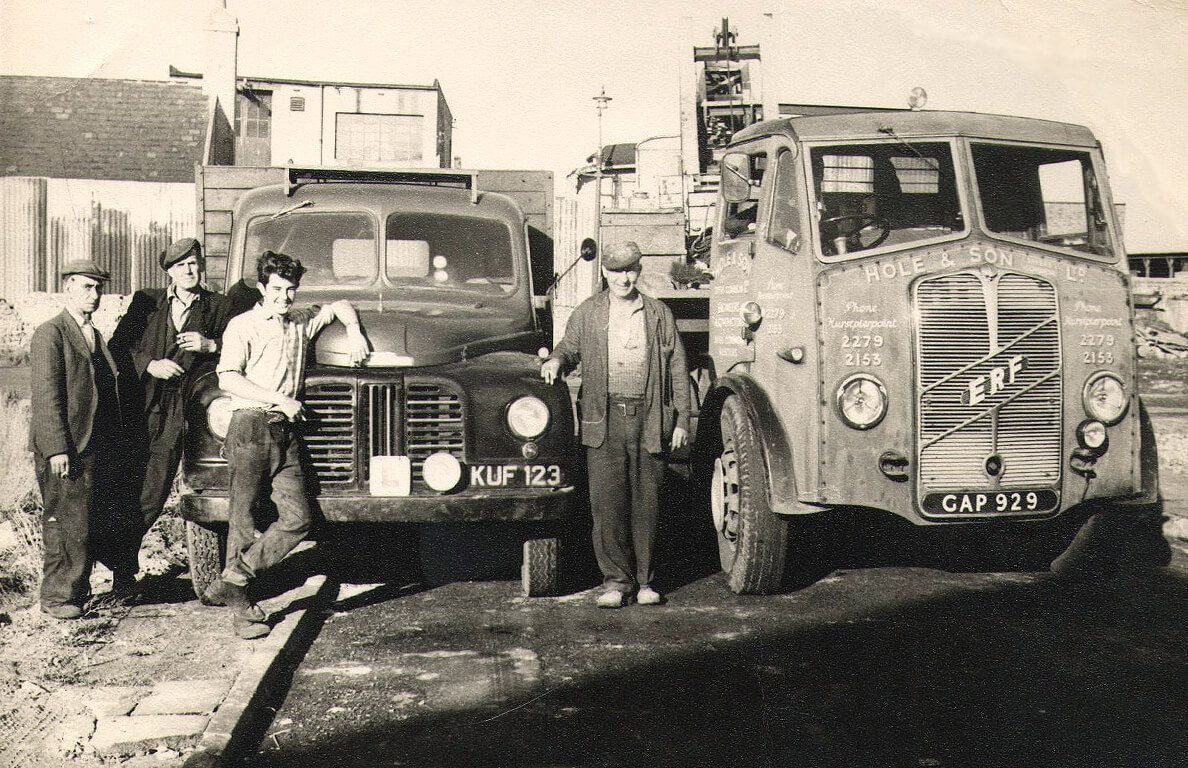 Introduction about Michael Penfold
Michael Penfold has kindly written a piece for our history pages. It chronicles Michael's father Alfred Penfold's immense contribution to the company dating back to the middle of the last century, the toil, sacrifices and sheer hard work that laid the foundations for today's company. 
Alf, like John Penfold, commanded respect from everyone. He could be fearsome and even in his later years was as strong as an Ox. He led by example…… and what an example! 
Michael's own words pay tribute to the others that have contributed to the success of the Company over many years, but what it doesn't do is reflect his own pivotal role in fashioning the route the company has taken over the past 20 years. Michael inherited his father's work ethic but he was more than a grafter, he could see that times were changing and through his scrap metal knowledge was able to modernise the company's attitude towards recycling.
He was, and still is, a visionary and a thoroughly nice man to boot.
Darren Lynch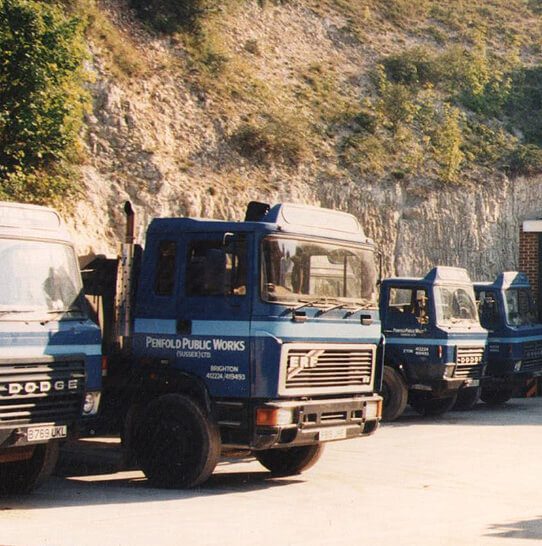 Alfred and Michael Penfold
My father Alfred Penfold was born in 1919, he was the youngest child of 4 sons and 2 daughters. Aged 14, he started working for his father Jack Penfold whose business consisted of horse and cart haulage, pig breeding and stables at Chapel Place, Portslade. There was also a yard with an orchard in Stoney Lane Shoreham which was mainly used for pig breeding and my father spent most of his early years working here. Both yards were rented.
Alf's eldest brother Mick (John Penfold's father) died after contracting T.B at the age of 23. My father idolised Mick and was heartbroken at his passing, often reminiscing about Mick in his later years.
Scrap Metal and Haulage
At the outbreak of war in 1939 my father joined the Argyle & Southerland Highlanders regiment and saw active service in Holland, Belgium and Germany. Alf married my mother in 1942 and I was born in 1944. Alf was demobbed in 1945 and wanted to return to pig breeding, but as a result of the war my grandfather's business had contracted. My father's other two brother's John and Jim transferred pig breeding to a parcel of land that my grandfather had purchased in Small Dole for a very small sum.
Alf started dealing in scrap metal from the yard at Stoney Lane. He purchased a large second hand van and replaced the body with drop sides. Over the next couple of years he built up a regular scrap collection round which included plumbers, general builders and some small factories and at the same time invested in the necessary tools and cutting equipment.
My mother, father and I lived in shared accommodation in a rented house in Gladstone Road, Portslade. A new council housing estate was being constructed at Mile Oak in 1949 and my parents were offered the opportunity of renting a house providing we could prove that we were capable of paying the required rent. We moved into Beeches Road, Mile Oak in 1950. My father would trade for pieces of furniture during his travels and in no time we had a lovely home.
At this time I was still at school but would often spend Saturday mornings with my father on his scrap metal round. We used to visit the houseboats at Shoreham as after the war, many ex-motor torpedo boats were purchased to provide living accommodation and all unnecessary equipment would be removed and valuable metals sold on. My father would explain to me the different types of metals and how to identify them. He was an immensely strong man and no matter how heavy and large an object was he would somehow manage to get it in the back of his truck. I continued my education at St Michael's primary school in Locks Hill Portslade and then Portslade secondary modern school in Mile Oak Road.
During the holidays I would work for my father at the Stoney Lane yard. I studied at night school and passed an exam to Preston Technical Institute for a one year course, finishing my education by the age of 16. I passed the exam at the end of the course and was offered apprenticeships with British Telecom, Kearney & Treaker and Wade Engineering. My final summer holiday was spent dismantling ex-naval marine engines which my father had purchased from a company dealing in redundant military equipment. I decided to follow in my father's footpath and was proud to do so.
By 1958 both the scrap metal and haulage elements of my grandfather's business were reasonably established albeit under financed with all of the vehicles and equipment purchased second-hand and needing constant attention. My father and I often sub-contracted to another scrap metal business called Freemans Rag and Metal Company. We would carry out dismantling work for them and also haul scrap from one of their depots to their wharf at Portslade ready to be loaded onto ships.
John had begun to include demolition alongside the company's other activities with Barry Harland joining the business upon leaving school and becoming John's right hand man.
My grandfather died in 1970 and as a result a partnership was formed between my father Alf Penfold, James Penfold, John Penfold and myself. It was at about this time that the partnership was given notice to leave the premises at Stoney Lane and so my father approached Stan Faul of Freeman's and he allowed us to rent their small depot in Mile Oak Road Portslade. It was a tiny disused chalk quarry approximately 1/20th the size of Stoney Lane yard to the point where we had to reverse into the yard as there was no room to turn around!!! A small wooden shed on a bank by the entrance was our office. The depot was used for the scrap metal activities of the business.
Penfold Public Works formed
In 1972 Penfold Public Works (Sussex) Ltd was formed to encompass the construction, demolition and haulage divisions. The company operated from a rented premises in Chapel Place, Portslade and later from a yard in Mill Road, Fishersgate. The depot at Mile Oak supplied chalk to a construction company filling in part of the Basin at Portslade where fuel storage tanks were to be erected, allowing us to considerably enlarge the available working space. Freeman's later moved their principal operation to Maidstone in Kent and offered my father the opportunity to purchase the Chalk Pit; the price was reasonable due to my father's relationship with Freemans and in particular Stan Faul and the yard was duly purchased.
James Penfold (Jim) retired in 1976. By this time a building consisting of a warehouse, workshop and a first floor office was constructed and a weighbridge installed at the Chalk Pit. I began to expand the scrap metal collection service by gaining various contracts with factories and manufacturers in the local vicinity as well as also supplying local foundries with material for their furnaces. It is difficult now to visualise the industrial intensity that there was in this area; three principal foundries locally as well as major manufacturers producing white goods, heavy engineering equipment, hydraulic pumps, cash registers and a multitude of small engineering businesses.
The partnership purchased a second hand Hiab lorry to supplement the three Bedford trucks that we operated and latterly we added two second hand skip loading lorry's and their containers. I managed to gain contracts with the Central Electricity Board for the removal of scrap metal from various power stations and was accepted on a tender list for the Ministry of Defence for the purchase of scrap material. We also became a principal contractor for the decommissioning of telephone exchanges for British Telecom and later gained a license for the storage of hazardous waste at the Mile Oak depot.
The business continues to grow
In 1980 we purchased and installed a 250 tonne pre-compression shear to deal with demolition and bulky scrap. Hydraulic excavators equipped with magnets and grabs were added to handle the materials and load vehicles with processed scrap bound for foundries and steelworks all over the UK. By 1983 local foundries had closed and the continuing decline of the British Steel Corporation meant that export for processed ferrous scrap was the only viable market but by now the scrap metal business had outgrown the Chalk Pit depot. A huge step was needed for the continuing viability of the business which would have meant relocating to a wharf facility to allow export and to also purchase modern processing and handling equipment. Sadly it was a step too far financially and reluctantly in 1986 the decision was taken to cease trading in scrap metal and concentrate on expanding Penfold Public Works (Sussex) Ltd. It was a painful decision to make after all those years of hard work and from such humble beginnings. My father missed the day-to-day activities in the yard but by now he was 67 years old and my mother was terminally ill and needed his company so he took the decision to retire. The employees of the scrap business transferred to the other parts of the company.
In 1989 the original buildings and offices were demolished and a new workshop, warehouse and office block were built to cater for the company's needs. I had begun to work closely with Barry Harland whom I had known for over 20 years. I greatly respected his judgement and sincerity, and it is true to say that I never met a single person that did not like Barry. I continued to work for British Telecom decommissioning their exchanges and I was responsible for running the transfer station at Mile Oak for the storage of battery acid and asbestos. My work with Barry included the pricing of demolition works.
The next generation
Fred Carr and Darren Lynch joined the company in 1982 and 1983 respectively. Fred was acquired to grow and expand the civil engineering and construction activities and Darren was a school leaver brought in for office duties. It soon became apparent that Darren had very good organisational skills and within a short period of time he was managing the transport and plant fleet. At this time the transport consisted mainly of 4-wheel tippers with a 10-tonne payload which serviced builder's merchants with sand and ballast. The company purchased a mobile crushing plant primarily to be utilised on the demolition sites to produce crushed concrete which was sold and hauled off site by our own vehicles. It was about this time that I began a working relationship with Darren which was to prove to be not only the most personally satisfying of my working life but also pivotal to the success that the company enjoys today. Chris Bowden joined the company in 1991 as the principal office manager and was the perfect administrator for all aspects of the company's requirements.
Barry Harland sadly passed away in 1996; I greatly missed him as a colleague and a friend and will never forget his sincerity and honesty. The company was once more at a watershed and a decision was made to concentrate on the core haulage and construction business and dispense with the demolition and asbestos removal activities. Darren and I continually pressed to upgrade and expand the transport and plant fleet, sometimes in a covert manner in order to get things done!!! I had forged a working relationship with Taylor Woodrow and managed to gain the majority of their haulage and plant requirements for the construction of the Southwick tunnel and the associated road works but in order to compete at this level we had to buy bigger and better trucks. On more than one occasion I had to act as a personal guarantor should the company default on the finance payments and if this had ever happened then I would have lost my house, but I had immense faith in what we were doing and could achieve. We expanded the transport and plant business to such an extent that the Chalk Pit depot was again at maximum capacity.
By this time my mother had passed away and my father was now on his own. He had been a good father to me and I felt the need to care for him to the utmost of my ability, I therefore decided to retire from the company in 2004. Just prior to my retirement, discussions had taken place about the possible merger of Penfold Public Works (Sussex) Ltd and G W Verrall & Son. The two companies had worked well together on several projects and I knew that John, Diane and their father's own objectives and values matched ours.
I shall forever be grateful that my father was able to live long enough to see what we had achieved and how proud those achievements made him. Those decisions made years before, however painful or unpopular had proven to be inspired ones and eventually rewarding. The period from 1986 to 2004 was by no means plain sailing as the construction industry went through several boom and bust cycles and as a consequence we were hit with some large bad debts and often had our backs against the wall. It is times such as these that you find where your strengths are within a company.
I was very fortunate to be working with Darren Lynch at that time and our dedication and comradeship allowed us to pull many a 'rabbit out of the hat'….. we were a good team. I referred earlier to "a covert manner" and this was highlighted when I decided to buy two second-hand Mercedes 6-wheel tippers and acted as a personal guarantor. You can only do this if you have 100% confidence in what you are trying to achieve but above and beyond this you must also have a common objective and the moral support of your working partner. With Darren I had this in spades.
There is more to the company than this, and this is my own perspective. Proud? You bet I am!
Michael Penfold – November 2014